An exceptional end-of-year offer at the O.lysée Hôtel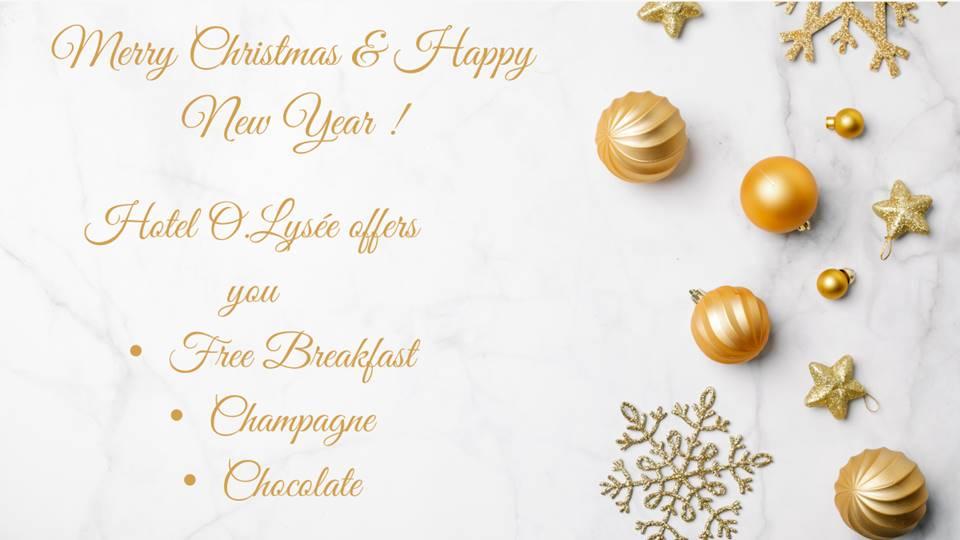 From mid-November onwards, Paris is decked out in lights in preparation for the festive season. A thousand delights await you, from Christmas markets to theaters and cabarets, from animated shop windows to Christmas shopping in department stores. Take advantage of this magical atmosphere by booking a stay with the end-of-year offer at the O.lysée Hôtel.
An exceptional offer
Whether you're a family or a couple, the O.lysée Hôtel welcomes you for Christmas and New Year with a package full of surprises. When you book your stay at this time of year, we'll give you a bottle of champagne to enjoy in your room or at the hotel bar, and a box of chocolates for a little indulgence. What's more, breakfast is included in your room rate. Start your day with melt-in-your-mouth viennoiseries, crusty bread, cheese and charcuterie assortments and a vegan and healthy selection.
Holidays in Paris
Thanks to our end-of-year offers, you can discover all the magic of the City of Light at Christmas time. Just a few steps from the Hôtel O.lysée, stroll down the illuminated Champs-Élysées to the Place de la Concorde. Find an exceptional gift in the Golden Triangle, the few streets that are home to the world's leading haute-couture labels. Book a unique evening at Lido 2 Paris, with its new musical theater program. A little further afield, you can discover the Parisian Christmas markets, the animated windows of department stores or the romantic atmosphere of parks and gardens in winter mode...
Take advantage of our exceptional end-of-year gourmet package for your Christmas or New Year stay at the O.lysée Hôtel. Our offer is available on our website. Book directly or contact our teams!
******
Photo : slowmotiongli
---
O.lysée Hôtel, a new fancy yet accessible and confidential address in the heart of the 8th district of Paris